Tarzan then and now...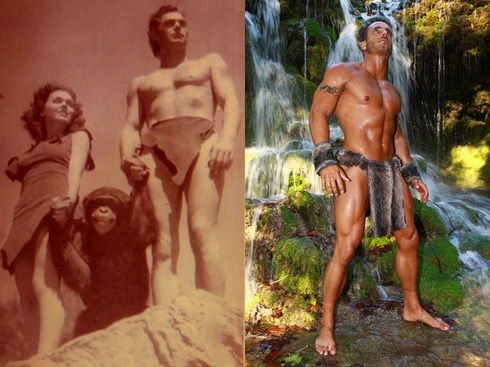 As a kid I hated to read but loved to write, and whenever we had a writing assignment at school I gave it my all. I also loved the Saturday movies, and Tarzan was my hero. The notion of living in a tree house with a pet ape and swinging from trees on rope vines triggered my child's imagination. Although I didn't realize it, Tarzan was also my introduction to the concept of hunks.

All my life, it seems, I've spent in make believe worlds. When I was a kid, I always had a club going in which I was one of the characters—Tarzan in my Tarzan Club, Long John Silver in my Pirate Club—and no, I'm not a guy, but these roles were the most exciting to play. Now, I'm still in a make believe world with my fictitious characters, and it's a great place to be because I have complete control of things. All writers understand this. I'm not sure my father did though. Being a psychoanalyst he probably had some misgivings over the course of my life, but he never discouraged my passion for my make believe worlds.

Although I grew up in New Orleans, Louisiana, now I live in a little hand-built log house situated in the middle of thirty beautiful wooded acres in the foothills of Oregon's Coast Range. Still loving to write, I spend my time living a life of romance and adventure vicariously through my fictitious characters and the hunks are in my stories. Being published in both historical and contemporary with Harlequin and Avon Harper-Collins, I vacillate between wanting to write both, but I love whatever I'm writing at the time. Right now it's contemporary westerns set on ranches in Oregon, and my heroes are cowboys. When not writing I share the "real" world with my husband, Ed, two cats, and a German shepherd who thinks her sole purpose for being on earth is to play ball.

---
Just beyond my window...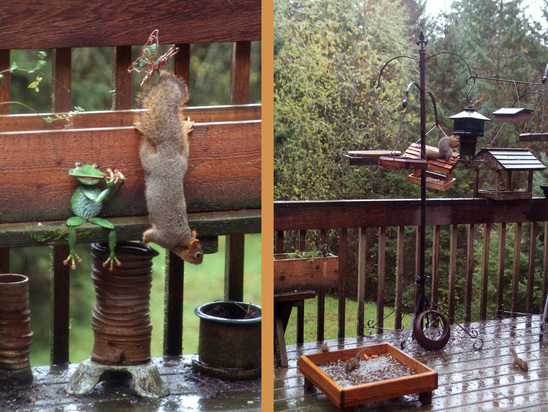 My laptop sits on a coffee table in our living room, and when I look out my window there's usually a lot of activity on the deck with dozens of little visitors that fly from, and scurry out of, the giant sequoia that stands about 150 feet tall and hovers over the deck. If I don't get the feed out on demand, a squirrel named Douglas knocks on the window to let me know he's being neglected. Beyond the deck is a meadow, and beyond that are woods with trails and one lone bobcat who took up residency this summer. We're hoping he'll go on his way soon since we really don't want to come nose to nose with him when hiking on the trails.
---
It's always cozy inside...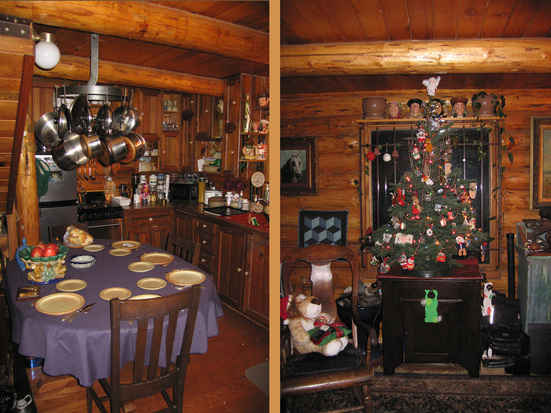 Although our house is small, we've had as many as 25 family, friends and neighbors over at one time. It's a little "close" when we're together like that, but it's always fun. I'm lucky in that my husband does all the cooking, laundry, and grocery shopping so I can just keep on doing what I love most... writing.
---
Another little world of make believe...

There is this other little world that I escape to that's been incredibly fun to create, and to the little bears who live there it's very real indeed. My contribution to their world is the complete remodeling of their home from a Victorian plywood model to a full Tudor home complete with wall paneling, electrical wiring, tile floors, an addition to the back of the house to extend the living room and kitchen, and the "rearranging" of interior walls. I also make all the food on their dining table using Fimo clay. And, of course, the Theodore Ernest Bear (aka Ted E. Bear) family use only handcrafted sterling silver utensils and serving bowls and porcelain tableware, and they drink out of hand blown crystal goblets. If you look closely you'll also see that they have portraits of the family throughout the house. Upstairs, under the roof, is where the little girl and boy cubs live--boys' room on the left, girls' room on the right, and the nanny bear's room is in the middle.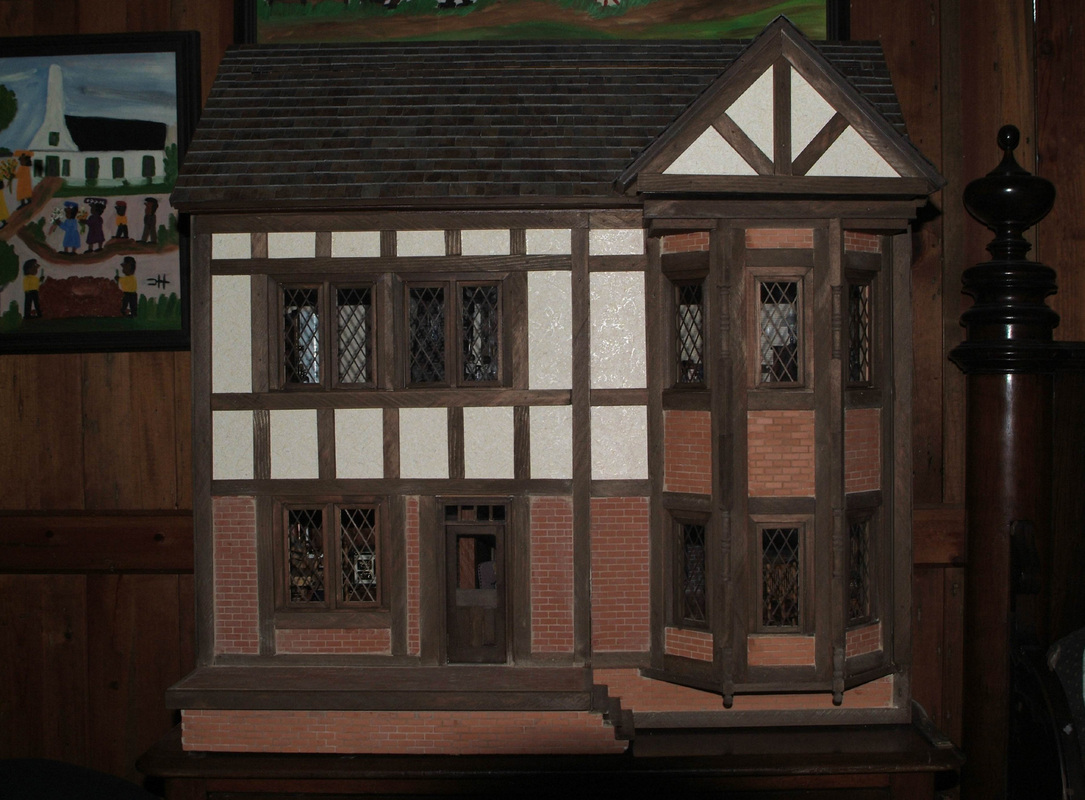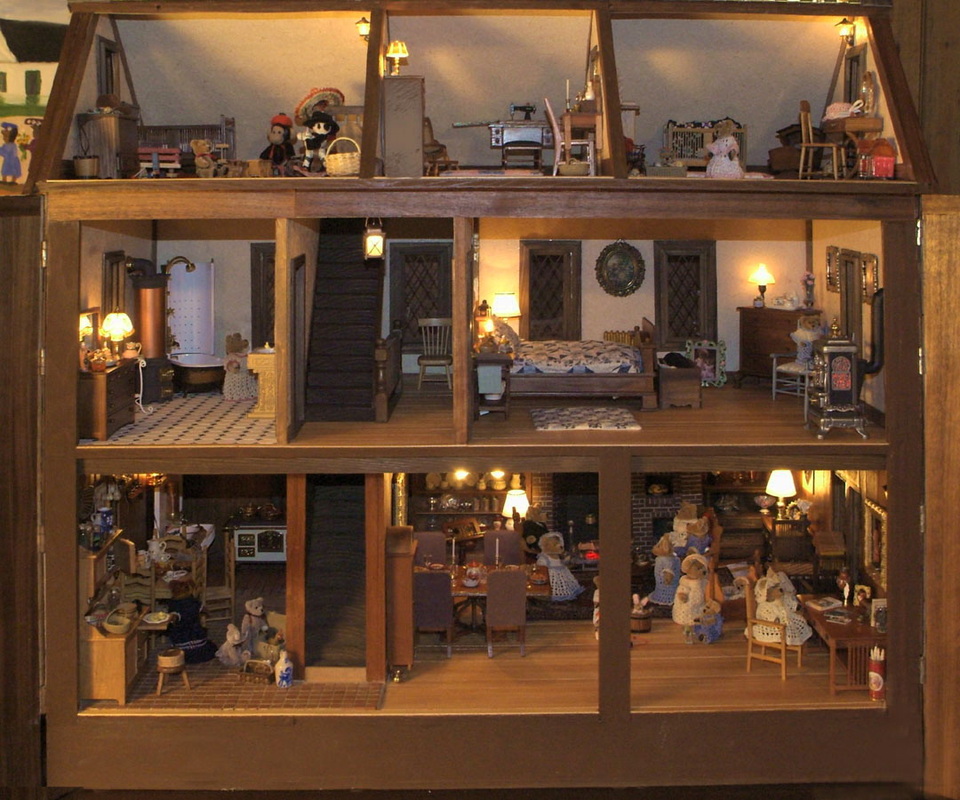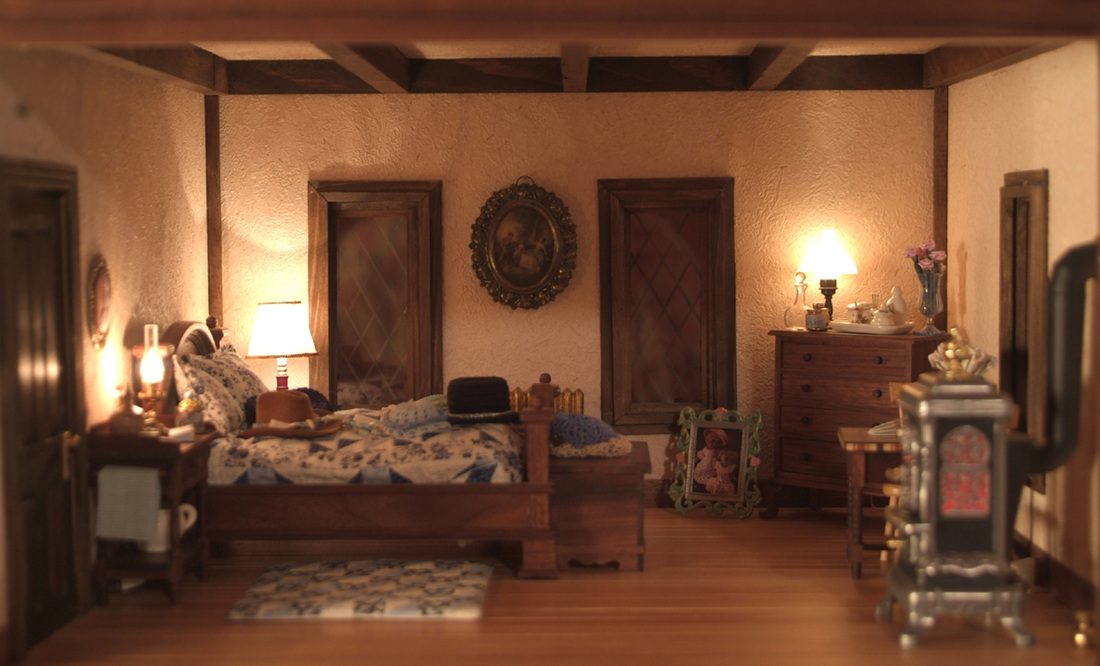 The little quilt on the bed is made up of 371 separate pieces, the bedroom set was made by a local craftsman, and at Christmas, the Bear family goes all out--lights on the Christmas tree, and like all American families, way too many toys under the tree for the cubs. And of course there are "pawkings" hanging over the fireplace for Santa to fill. There is also a big Christmas meal. And yes, the dinnerware on the table is authentic Limoges, the silver gravy boat and serving bowls handcrafted by a jeweler, the wine goblets and water pitcher, lead crystal, and the little pecan pie smaller than a dime.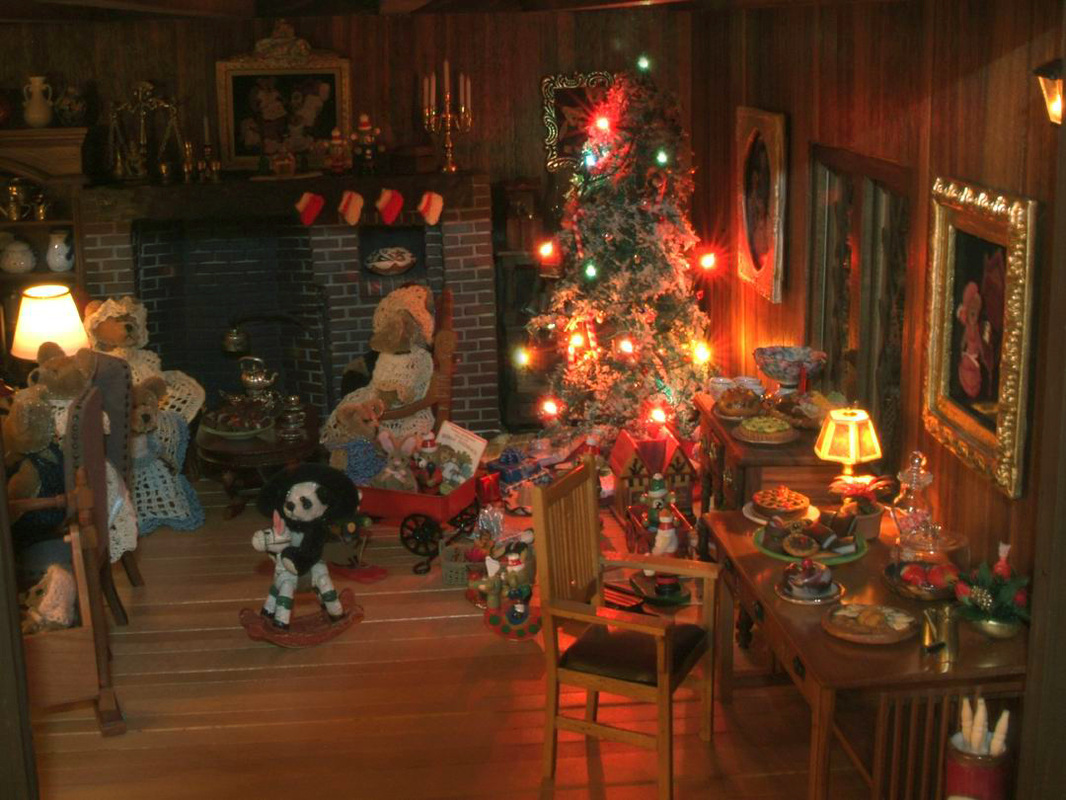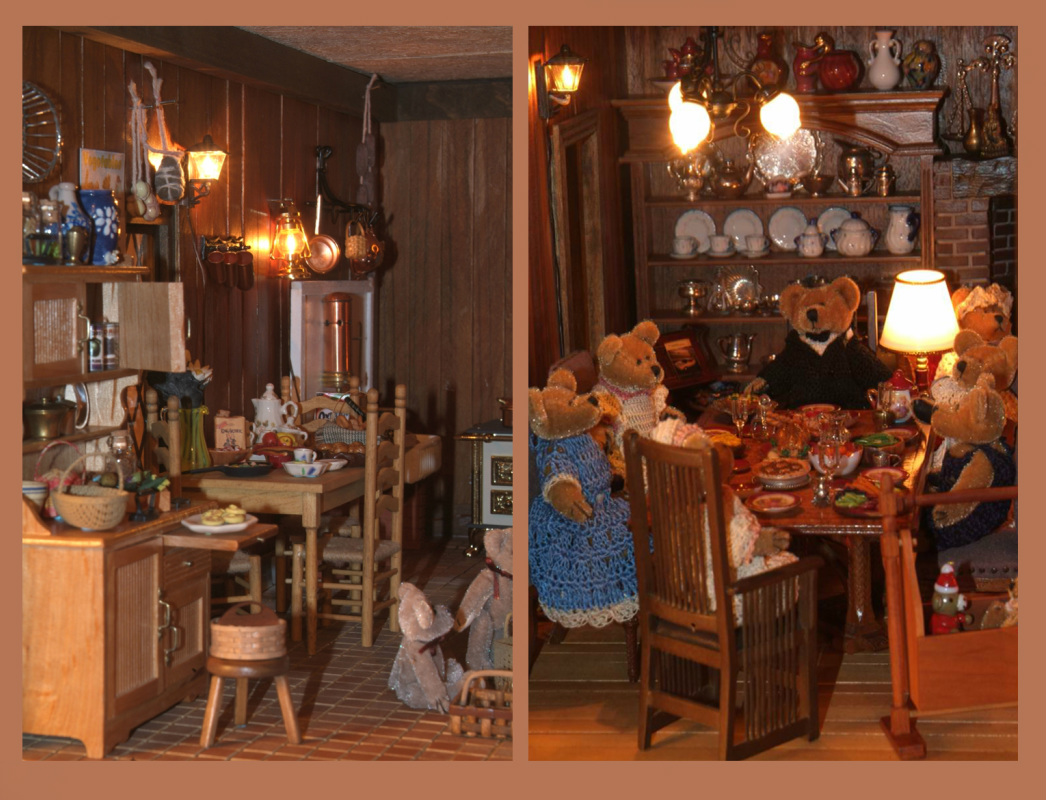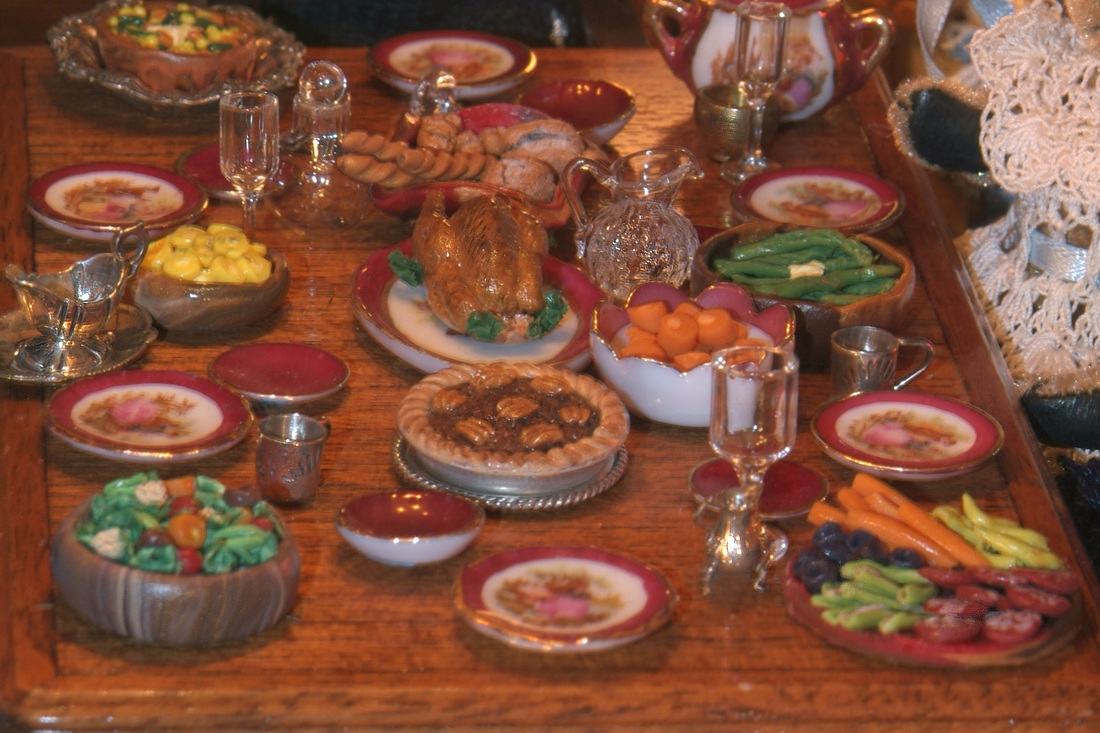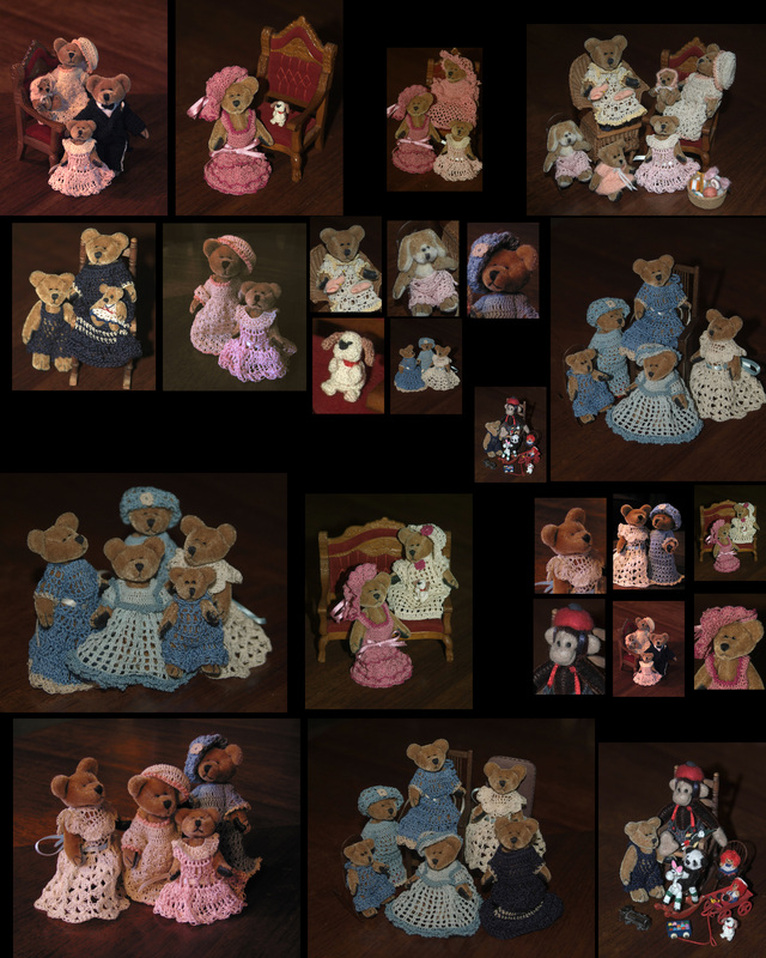 Above is the entire Theodore Ernest Bear family, all dressed in their finest and posed for their portraits, which you can see in the various framed pictures on the walls throughout the house. It's all kind of crazy, but fun! Thanks for stopping in, and please come back anytime.