Straying off the road well traveled and Going Indie...
Going Indie is a relatively new term. When I first started writing, the only available outlet for getting manuscripts into book form and available for readers to buy was through traditional publishing houses. No one ever considered self publishing, or if they did, they spent a small fortune having a local publisher prepare a limited number of books that the author would take to bookstores and sit a few hours, at a small table, selling and signing a few books. If that author was lucky, he or she might recover their initial investment. Today that's all changed. Most of my published writer friends are either completely, or partially, going indie (aka going independent). The following article outlines my entrance in to the market as an independent writer, and why I made that choice. Perhaps you too might want to look into this option, now that its time has come.

TAKING CONTROL
by Patricia Watters
Going indie is frowned on by many who assume we're not good enough to sell traditionally so we had to resort to selling our books ourselves. This puts the burden on us to prove the merits of our writing to skeptical readers who've been burned after buying books filled with typos and formatting issues and just plain bad writing. So we start with several strikes against us. But if we get past those, we also collect a 70% royalty instead of the typical 6% from a traditional publisher, which also means turning over 15% of that to an agent. So as an indie author, for our $2.99 books we get to keep $2.00. That's definitely a plus. I was fortunate in that I'd already sold to Avon and Harlequin Superromance, so I was over the hump of having to prove that my writing was at least good enough to sell to a traditional publisher, so I make sure that's noted in all of my author bios.
For me, going indie also meant I didn't have to convince an editor to let me keep the title I'd chosen, or wait in dread to see what the art department would come up with as a cover for my book. More important, I'd never again be mortified on reading a back-cover blurb like the one written by an editor for my lady-logger story, Sweet Promised Land (now Broken Promises on Amazon), that referred to a tract of timber as a tract of lumber (only in New York do trees grow as 2x4s). Nor would I have to worry about a line editor changing active voice to passive voice--she informed me after the sale that she was just out of college and I was the first author she'd worked with. Gag! On the other hand, I'd also be solely responsible if my books crashed and burned with 1-star reviews.
Deciding to take the chance, I began the process of preparing my books for publication since I was determined to be a do-it-youselfer and keep total control. So, I went through the whole learning curve, starting by downloading Mark Coker's free ebook on Smashwords on how to format for ebook publication. Learning how to format books and post them myself has served me well, especially since I re-read all of my books about every 3-4 months and always make editorial changes, whether it's changing dialog that hits me wrong after some time has gone by, or tightening a slow-moving scene by chopping words, or just cleaning up "glitches" such as extra words that remained after revising. Whatever the reason, I want to be able to upload my books at any time. As a do-it-yourselfer, I also have the option of changing covers and/or titles if a certain book isn't doing well. Which brings us to the matter of covers.
Doing my own covers has been a gradual learning process, which is still in the works. I'd been a portrait photographer in the past so I already knew Adobe Photoshop. Still, my first attempts were pretty amateurish. I also had seven covers to prepare. I was fortunate in that I had a pet peeve. Prior to the indie revolution, when the only option for a writer was to submit to editors, I hated having to prepare the required 3-chapter, one-page-synopsis proposal, so after finishing a manuscript, I'd set it aside and go on to my next story. But while I was busy writing, I began to hear success stories about authors who'd gone independent. By then I had seven manuscripts completed, so I began to toy with the idea. And the more I thought about NOT having to prepare those proposals, the more I liked the idea.
So one morning, as I was mulling over which way to go--write the dang proposals and send them out and wait months, even years to hear back, and possibly get an acceptance, but more likely get a rejection, or go indie--the choice seemed suddenly simple. So, after learning the how-tos of formatting and preparing covers, on May 6, 2011, I posted all seven books, which was key to future sales. If readers don't have follow-up books they'll go on to other writers. Sales started right up. Colby's Child, one of my five historicals, shot out of the starting gate and is still my bestselling historical. For some reason readers seem to like heroes who have soft spots for babies and kids. Other books did okay, but a couple seemed to languish. Because I was in control of my writing career I had the option of changing covers and/or titles as a means of generating interest in lagging books, which can make a big difference.
Changing titles...

For example, Never Too Late started out as The Lady Takes a Lover, with a cover that had the silhouettes of a couple on a beach against a sunset. It was selling at a snail's pace. So I changed the title to Suddenly Single and moved the couple closer, but with the same image. Still nothing. The next title I tried was One Hot Hunk. I was sure that would attract sales. Nope! So I looked for other cover images and found one with an interracial couple. Wanting to crack into the black romance reader market I decided to go with that cover and revise the story accordingly. After running some new titles past an author friend, we came up with Never Too Late, but I also categorized the book on Amazon as a black romance. Sales started up. But then I had two variables: a new title and a new cover. I decided it was the interracial couple that was doing it. And I'll pick up on this later...
---
Changing covers...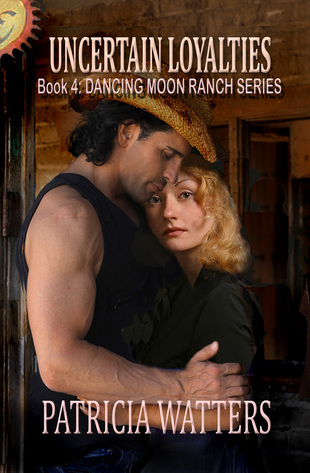 Back to preparing covers... I do a lot of moving things around after buying an image from a stock agency, such as merging a subject from one image with a subject from another image as I did with Uncertain Loyalties, which is Book 4 in my Dancing Moon Ranch Series. The blond-headed woman and the dark-headed cowboy were two different images, and the background a third. In addition to masking couples and moving them against different backgrounds, I also flip images, redress models, change hair color and make other modifications because these are stock photos that are not exclusive to the person who buys them, and I don't want another book to show up with the same cover image as mine. In addition, I make all my books available in paperback through Createspace, which means designing the back cover as well, and the paperback editions are linked to the Kindle editions.
---
As for hiring people to edit my manuscripts, I do it myself. I'm a fast writer, and a panser (write by the seat of my pants without an outline), so when I'm writing a 70,000-word story in a couple of months, which means 12-14 hour days, it's impractical to pass a manuscript on to someone to read at a slower pace, plus I don't want to impose on my writer friends, so that's why I do it myself. Reading the manuscript aloud is also highly recommended because you can't help but stumble over typos and other editing problems.
Being a take-controller also means doing your own marketing. However, my approach has been the opposite from what everyone says is necessary, so when I'm asked how much marketing I do in the form of blogging and spending time on Facebook and Twitter, my answer is zero. I don't have a Facebook account, and although I signed up for Twitter I haven't been on it once. I'm happy to be a guest on blogs, but for me, Amazon's Kindle readers are my target market, and I get to them by writing more books. Other than direct sales to repeat buyers, my only other marketing tool is my website. I also post covers and information about books in progress. But my biggest marketing tool is to just keep on writing. Since I posted my seven books in May of 2011, I've written nine more, six of them in my Dancing Moon Ranch Series. It's my first series and I loved having my characters stay alive through six books. It's also a two-generation series in two trilogies: Living With Lies and The Lies Uncovered.

To give you an idea of how this plays out, my heroine in Book 1: Righteous Lies (far left in the banner above), is pregnant with my hero in Book 5: Becoming Jesse's Father (5th image above). The heroine in Book 2: Pandora's Box (2nd image above), is the sister of the heroine in Book 1, and the hero in Book 2 is the father of the heroine in Book 4: Uncertain Loyalties (4th image above). Moving on, the hero in Book 3: False Pretenses (3rd image above), is also the father of the hero in Book 4: Uncertain Loyalties. But throughout the series I don't lose sight of my original hero and heroine, Jack and Grace Hansen, who become the parents of six sons and a daughter, all of whom play important roles throughout the series, just like characters do in television series. But these characters don't just parade in and out of books to let readers know they're still alive. They have important roles in moving the plots forward. Jack and Grace from Book 1 are every bit as important to the plots, as secondary characters, throughout all six books, as they were at the outset of the series, only by the end of the series Jack and Grace are grandparents with four grandchildren and three on the way.
To make sure readers don't feel like they've drifted off into La La Land where life is perfect after wedding vows, Grace slips into a fairly serious depression in Books 5 & 6, but not because of Jack, but because of something that happened in Book 1, which Grace set in place. Book 1 is also the first book in the first trilogy of the series, which is entitled Living With Lies. The second trilogy is entitled The Lies Uncovered. This second trilogy is when all the lies begin to unravel. It was a very interesting and satisfying series to write.
In capitalizing on the series as a marketing tool, I'm linking my Dancing Moon Ranch Series with my Kincaid Ranch Trilogy. With the advent of Kindles, if readers like what they're reading, at the touch of a few strokes on their Kindles they can download the next book in the series and keep going. At the end of all books I also include the titles and blurbs for every book I've written, along with my About the Author bio and my web addresses. I want to make it's easy for readers to find and buy my books.
More about covers...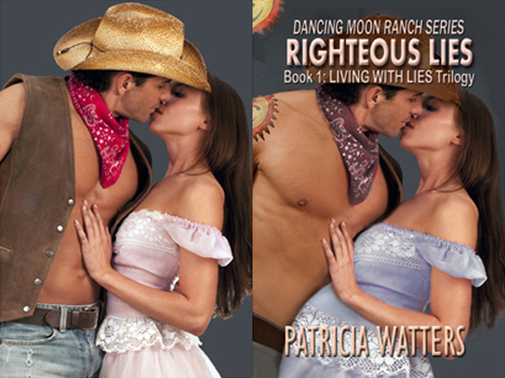 I love having complete control of the project, so designing and completing the cover is, for me, a challenging pleasure. On occasion I find an image from a stock agency that's okay the way it is, but that's not the norm. Most covers take a lot of Adobe Photoshop work and multiple layers of images overlapping each other, or images being manipulated in some way. For example, the stock image on the far left showed a very thin model, but in my book, Righteous Lies, which is Book 1 of my Dancing Moon Ranch Series, Grace, my heroine, was over seven months pregnant at the opening of the book. So it did indeed take some photoshop manipulating to make that skinny model on the left look like she was not far from giving birth. Adding some shading and highlighting to Grace's belly helped make it look "real." I also got rid of Jack's vest, and since I hate bright red on ANYTHING, I changed the color of Jack's bandana and got rid of his hayseed straw hat. The "dancing moon" tattoo on his shoulder, which is also shown in the top left corner of all books in the series, is explained in Book 1.
---
Another new cover...

So back to my single title, Never Too Late, with the interracial couple. I found the image of the appealing black couple to the left while perusing a stock agency, so I decided to change the story to an all-black romance, and with a little revision and yet another cover change, I posted my first all-black romance on Amazon and followed up with the paperback edition through Createspace--one of the great benefits of learning formatting early on. So now I'll wait and see what happens. So far it looks very promising.

Meanwhile, I invite you to check out my other website and see my covers and read about my books. I've even posted the covers for books I haven't yet written--two more cowboy stories and a double trilogy entitled Ties That Bind and Daughters of Privilege. This six-book series will be set in Louisiana in the early 1800s and move up to pre-Civil-War days. During this period there were many wealthy black plantation owners who owned slaves, and whose children married the sons and daughters of other wealthy black plantation owners, but only through marriages arranged by their fathers, a BIG taboo being that the children of these wealthy planters NEVER mingled with slaves. So naturally, the last heroine in the series will fall in love with one of her father's slaves, and the series will have come full circle when the hero in the first story was a recently freed slave who, at the end of the story, is able to buy his wife (the heroine) and later his two daughters (heroines in the next two stories).
---
Adding color to black and white...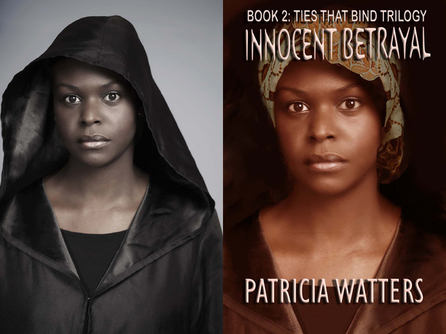 This is the cover for Book 2 of my Ties That Bind Trilogy. The image on the left actually looks like it has some color to it but it's actually just black and white. Adding color was a fairly simple process using Adobe Photoshop by going into "adjustments" and adding color... in this case some red and yellow to make a natural light brown skin color. Getting rid of the hood was not quite as simple, but by moving the image over a dark background and "erasing" through the hood to the background, it turned out pretty nice. I found a scarf from another image, then moved it over the model's head and played around with it some. Finally, I added dark burgundy coloring to the rest of the garment she was wearing so as not to draw too much attention to it. The entire series idea was born out of research I was doing for my memoirs... a story that's covered under the TIPS ON WRITING MEMOIRS tab.

---
Putting it all together...


So now that you know a little bit about preparing covers, above are a few of the images that went into creating the cover for Justified Deception, my story about a woman whose 2-year-old daughter was abducted, and four years later she thinks she's found her on a ranch in a remote corner of southwest Oregon.
So, in the far left photo above, first I had to get rid of the fluffy turquoise gown on the model. I did that by stealing the shirt and arm of the model in the image in the middle. The ranch gate, I found on a stock site, and I added the name Kincaid Ranch to the hanging board. Because this is the first book in a series that has to do with wild mustangs, I placed the string of horses behind the gate.
The little girl, Annie, was cut and pasted, but first I got rid of the red scarf and pink blouse because it was too prominent, and I rarely include the color red on any of my covers. Lastly, the black background seemed very stark, so I placed the "family" in front of the photo of an old barn board. It turned out to be a simple-looking cover, but it was actually quite challenging to put together. Because I love writing series, I linked this series with my Dancing Moon Ranch Series, and little Annie Kincaid in this book will grow up to marry one of the six sons from the Dancing Moon Ranch.
To learn more about the Dancing Moon Ranch and Kincaid Ranch Series, click here.
***
The basics of formatting and uploading...The following is intended as a guideline only. If you're serious about self-publishing, I suggest you download Mark Coker's ebook on how to format. It's very comprehensive, but I broke it down into the following guide, for myself, when I was first learning how to do this. After a while it becomes automatic and it's a simple process.
FORMATTING 101 FOR AMAZON/KINDLEManuscript Setup
1. Pull up a blank page in WORD and save it as "
Word 97-2003 Document
"
2. Set margins at 1" top, bottom, right, left
3. Do NOT include numbers
4. Do NOT include headers or footers
5. Set font at
12 pt Times New Roman
6.
LEFT JUSTIFY
(it looks about the same as RT and LT justification on Kindle)
7.
DO NOT use tabs
for new paragraphs; see
Paragraph Dialog Box below
for settings
In your Paragraph Dialog Box do the following:
Under "General" choose
Left Alignment
and leave "Outline Level" at
Body Text
Under "Indentation" leave
Left and Right at 0
Under "Spacing" leave
Before and After at 0
Under "Special" change from
none
to
first line
Under "
By
," change from 0.5 to 0.3
Under "Line Spacing" set at
single
Click on the "Line and Page Breaks" tab and check the
Widow/Orphan control
box
Manuscript Layout
1. First page with
TITLE in CAPS
and
Boldface
near top of page (14 pt type)
2. Author's name directly beneath, in caps and lowercase
3. Insert a
page break
(the page break icon should be on your Microsoft Word task bar)
4. Include your copyright notice. I use the following, and make it in 8 pt font:
BOOK TITLE
Copyright © Author Name, 2012
First Edition
This is a work of fiction. Names, characters, places and incidents are products of the author's imagination, or were used fictitiously and are not to be construed as real. Any resemblance to actual events, locales, organizations, or persons, living or dead, is entirely coincidental. All rights reserved. The republication or utilization of this work in whole or in part in any form by any electronic or mechanical or other means, not known of hereafter invented, including xerograpghy, photocopying and recording, or in any information storage or retrieval system, is forbidden without the written permission of the publisher. The scanning, uploading, and distribution of this book via the Internet or via any other means without permission of the copyright owner is illegal and punishable by law.
WARNING
: If you copy and paste the notice above
be sure to change
BOOK TITLE to the name of your book, and Author Name to your name. It's easy to mess up when copying and pasting copyright notices.
5. Insert a
page break
after your copyright notice
6. Set chapters headings in
CAPS at 14 pt
and change font back to 12 pt and center on page
7. Inset a
line space
, then go to your paragraph box and AGAIN set "Special" to
First Line
and "By" to
0.3
and start your story. You only need to do this after chapter headings and *** scene changes (see below) as they are centered and the next line needs to be reconfigured
8. For scene changes within a chapter insert *** and center on the page
9. At the end of each chapter insert a
page break
10. When the manuscript is completed, edited for typos and missing words, change it to HTML format by doing the following:
To change to HTML format
1. Save as
web page, filtered
2. When a box pops up on the screen, check
No
3. In the next box save as
Web Page
4. The manuscript is now ready to upload to Amazon/Kindle
***
UPLOADING TO AMAZON Before I uploaded my first book I was VERY apprehensive about what would appear on the screen when I pressed the "Start a new book" button. To give you an idea of what to expect, following is what will come up on the screen when you go to upload your manuscript to Amazon. I filled in the areas in red with information on my title, HER MASTER'S TOUCH, as an example, along with the story description, which you will need to prepare, before going through the process of uploading for the first time. After you've done this several times, it will be simple.
Title
(required) Her Master's Touch
Enter
the title of your eBook here. If your eBook is part of a series, you can enter the series title and/or volume number here.
Description
(optional) Like the copy on the inside flap of a hardcover book, the description tells readers a bit about your eBook. You can enter a description for your eBook that is between 30 and 4000 characters in length.
Note:
The book description on your title's detail page may be delayed but should appear within 72 hours.
SHE WAS DRAWN TO THE SIGHT OF HIM, EVEN WHILE A SLOW AWARENESS BEGAN TO DAWN... She's the mystery debutante of the season, who arrived on the London scene as if from out of nowhere. But Lord Damon Ravencroft knows her dark secret. Two years before, when she was roaming with Gypsies and living by her wits in India, he hired her as a housemaid, and she stole from him a rare and valuable opal once belonging to the Empress Josephine. Damon intends to be compensated for its loss, which set him back years in his quest to prove his innocence in a crime he's accused of committing. The sizable dowry that comes with Lady Elizabeth Sheffield's hand in marriage is a start. It's also his price to keep her secret from all of London. But there's more to the marriage of convenience that Damon proposes than Elizabeth anticipated, but by the time she learns what it is, she's trapped into a marriage to a man who both stirs her passions and fuels her resentment for the man she was forced to wed.
Contributors
(required) Patricia Watters
Enter the names of the people who contributed to your eBook, including authors, editors, illustrators, translators, and more. At least one author name is required.
Language
(required) English
Enter the language in which your content appears. We currently support English, French, German, Italian, and Portuguese.
Publication Date
(optional) N/A
If your title has been previously published in physical or digital format, enter the original publication date here. Otherwise, the Kindle Store will automatically enter the date the item is being published once everything has been processed.
Publisher
(optional)
Enter the publisher name that you would like listed for your eBook on the book's detail page. This can be an individual or company name.
ISBN
(optional) Amazon assigns an ISBN
If you have purchased an ISBN (International Standard Book Number) for your eBook, please enter it here. ISBNs for print editions should not be entered in this field.
Verifying Your Publishing Rights
(required) I hold the rights to this book
If your title is a Public Domain book check
This book is in the public domain
. If the publishing rights to your title are privately held check I hold the rights to this book. To read more about our public domain policy see our
Content Guidelines
.
Categories
(required) Romance>Historical Romance
This information will help interested readers find your eBook. Choose from dozens of categories, The number of categories is limited to 2 browse categories. In the past, publishers could select up to 5 browse categories. Books that had been previously published with 5 browse categories will retain their category assignments.
Search Keywords
(optional) India, London, British, English, Calcutta, opal, debutante
Enter 5-7 descriptive keywords to help readers find your eBook. Separate keywords using commas. (NOTE: have these prepared in advance so you can copy and paste)
Product Image
(optional) Upload cover image here
Upload a cover image here. Cover images can help entice readers to take a closer look at your eBook. Images must be in TIFF (.tif/.tiff) or JPEG (.jpeg/.jpg) format. Please size your cover art 500 pixels by 1200 pixels at 72 dpi for optimal viewing. The image will appear on your screen the size below.
Digital Rights Management
(required) Yes
You may choose, on a per title basis, to have us apply Digital Rights Management (DRM) technology, which is intended to inhibit unauthorized access to or copying of digital content files for titles. Once your title is published, this setting cannot be changed.
Uploading Your Book File
(required) Upload Manuscript in HTML format
After selecting the DRM option that suits you best, the
Browse for Book
button will appear. Browse for Book search works like many other similar web forms, allowing you to browse your computer/network for your digital content and upload it to the Kindle Direct Publishing server.
Preview Book
:
Check for (1)
copyright notice with
correct title
, (2) Chapter headings centered; (3) end of book with updated listings of other available books if applicable; About the Author included at end
Save and Continue (or save as a draft)
Set Prices
Be sure to check all foreign sales "boxes," then go to your Amazon account and be sure to have all payments deposited electronically AND in US$ or you will receive checks in British pounds and other currencies, which cost a lot to exchange (US bank wanted $85 to exchange)
Changing Your Product Details
You can change your product details any time by returning to the "Bookshelf" tab and following the steps below.
1. Click the "Actions" button next to the title for which you would like to update the details.
2. Click "Edit book details" or "Edit rights, royalty, and pricing"
3. Enter the changes you would like published
4. Click Save and Continue, then click "Save and Publish."
Note
: The Kindle Store requires approximately 24 hours to update English titles and 2-3 business days for titles in other languages.
All of my books are available in ebook and paperback from Amazon by clicking here