"Come then, and let us pass a leisure hour in storytelling,
and our story shall be the education of our heroes." –Plato

Greetings!
Welcome to the premier edition of Story Threads. I chose the name Story Threads because fiction writing is all about weaving story threads that run throughout the plot. For me, the idea of weaving story threads started back in 1987, when I got a phone call from a senior editor at Harlequin, who had just read my manuscript, telling me that she liked my writing but there were problems with the plotting. That's when I learned about story threads. To say that my story was not exactly well-crafted is the understatement of all times. But I did manage to dissect the story, change the series of episodic scenes into workable story threads (aka mini subplots), introduce them early in the story, then weave them together in the most intricate and complicated rewrite that I hope never to repeat. But it secured my contract with Harlequin for a book entitled Sweet Promised Land (available on Amazon and Barnes & Noble as Broken Promises). But what I learned from the process—the significance of weaving in story threads—was invaluable.
This is the way that very-early-in-my-career story started out. As a novice writer, in an attempt to keep the conflict going, I fell into what I call the episodic trap. During the first chapter in my story I introduced a conflict, let it build to a dramatic climax, and in short order (within the same chapter), resolved the conflict, but the story was far from over. There were still a few hundred pages to fill. What to do next? The logical thing, from the viewpoint of a neophyte writer who understood the importance of keeping conflict going, yet faced the reality of generating thousands of words to fill all those blank pages, I introduced another conflict at the end of the first chapter to keep readers turning the page. That conflict escalated to a climax and was resolved before the end of the chapter, which took up some pages, but not enough.
But I was on a roll now. I got the hang of how to keep a story going, indefinitely if necessary. I introduced another conflict, which was resolved in short order, and so on, until the story reached the required number of words, when the hero and heroine could stop fighting and declare their undying love. And I could proudly sit back and smile because I had completed a full-length novel that was loaded with conflict.The problem was, what I had was a series of unconnected scenes to keep the hero and heroine apart for the duration of the book. Instead, the elements of each subplot should have been introduced in a logical sequence, interwoven with other subplots, and interjected into the flow of the story over its course in a way that would make a major dramatic conflict—the climax—inevitable, paving the way for a happy ending.
I have a feeling that most of my readers are a little savvier than I was back then, but if the idea of story threads is new, try looking for them the next time you start a novel. The two or three subplot threads should run throughout the story, with the sole purpose of complicating the lives of the hero and heroine, then be resolved in the final chapters, when the last thread, the main conflict that has kept the hero and heroine apart for the duration of the book, is resolved. That, in a nutshell, is what story threads are all about.


Weaving in story threads is a little like moving through life—gathering memories and passing them on, along with words of wisdom in the form of story threads, with high hopes that the next generation will actually listen. I recently wrote my memoir, which meant relying on my memory, which is 74 years in the making, but I also tapped into stories that had been passed on to me by my parents and grandparents, all of whom are gone now. I'd love to share my memoirs with readers. It's entitled Around the Belt, which is a New Orleans term for riding the streetcar around the city and getting off at the same streetcar stop where you got on. It's available on Amazon, and there is information about it here on my website on the WRITING MEMOIRS tab above.
One story thread during my early life that stands out is the story of Chickie and the little blue sweater. Above you'll see me holding Chickie. During WWII, my family, like most American families, had a Victory Garden in the backyard, where we raised vegetables, as well as chickens. I befriended one little chick when I was four, and I named her Chickie, so she was spared the frying pan. However, Chickie had a problem. Come fall, when she lost all of her feathers (aka molting), she failed to grow in new ones like the other chickens. So Mommy (I'm southern so my folks were always Mommy and Daddy) bought some blue wool, along with a pattern for knitting a sleeveless, V-neck sweater, presumably for a large doll. Mommy knitted the sweater for Chickie, who wore it proudly until spring, when she finally grew feathers. By then she was a pet, who was with me for the next eight years.


That's my little kitchen above on the left, and my grandmother, Mere (mother in French), as she was known to the family, on the right. It's a tiny kitchen, but it's all my hubby, Ed, and I need for cooking good meals. Having descended from a long line of Acadians (Cajuns), back to 1765 when my ancestral grandfather, Joseph Broussard, led 230 Acadian exiles from Nova Scotia to Louisiana, I decided to focus on Cajun cooking, which has been passed down through the family, and was everyday fare when I was growing up. But before I continue, I want to tell you about Mere.
I feel privileged to have had her for my grandmother. She was born in 1868, and because she didn't marry until she was in her thirties, and my mother was already in her late thirties when I was born, I grew up hearing stories about what it was like living on a plantation on Bayou Teche, near the French-speaking community of St. Martinville, Louisiana. Everyone was French-speaking in the area, including Mere. This was also at a time when neither cars nor electricity existed. Mere lived to be almost 105, and in my memoir,
Around the Belt,
there is a lot of information about Mere, and my rather eccentric grandfather, Otto Schoenfeld, who won the World Champion Fencing title at the Paris Exposition in 1904
.
Mere was the receiver of the recipes passed down through her French-Acadian family, and because she was in her 70s when I was born, she never came over to babysit, but she did come to cook, so I enjoyed lots of good Cajun-Creole French cooking. In every edition of
Story Threads
I'll be including Mere's recipes. The following is for Mere's
Shrimp Etouffee
. The word
Etouffee
is French for stew, and broadly translated in recipes as "smothered in a rich brown gravy."
As with much French cooking, the recipe for Shrimp Etouffee begins,
"First you make a roux,
" a roux being a mixture of equal parts fat and flour. A roux is used for thickening sauces and soups. Add to your etouffee a tossed green salad, thick slices of warm French bread, and a Caramel Cup Custard, and if you serve it to guests, they'll have a meal that won't soon be forgotten.
Basic Roux
(roo)
1/2 cup butter
1/2 cup flour
Melt the butter in a heavy skillet over medium heat. Add the flour a little at a time and stir constantly until the roux is dark brown. This should take about 5 minutes. The roux should have the consistency of a thick paste. Mere emphasized stirring constantly and removing the roux the moment it becomes dark brown and not a second longer. If it smells scorched, you have to start over because even a slightly burned roux will ruin a dish. To this basic roux add seasoning and stock to make various sauces and gravies.
Shrimp Etouffee
(eh-too-fay)
1/2 cup butter
1/2 cup all-purpose flour
1/2 cup celery, chopped
1/2 cup fresh parsley, chopped
1 cup onion, chopped
1 cup green pepper, chopped
1-1/2 cups fresh thyme, or 1./2 teaspoon dried thyme

4 tomatoes, chopped
4 cloves garlic, minced

1/2 teaspoon cayenne
1/2 teaspoon black pepper
1-1/2 pounds raw shrimp (or crayfish tails for crayfish etouffee)
1 small can tomato paste
2 cups seafood stock (or bottled clam juice)
1 cup green onions, chopped (to serve over the etouffee)
2-3 cups cooked rice to serve with the etouffee

1) Shell and de-vein the shrimp, reserving the shells and heads to boil in 2 cups of water for making the seafood stock. Strain the stock before proceeding.
2) Chop all of the vegetables before starting the roux and set them aside.
3) As soon as the roux is browned, remove the skillet from the stove and stir in the vegetables, then return the skillet to the stove and heat the vegetables for about 5 minutes, or until they are limp.
4) In a large saucepan, heat the seafood stock and tomato paste and bring it to a slow boil.
5) Add the roux with the vegetables to the stock, 1 tablespoon at a time, stirring after each addition, until the mixture is smooth.
6) Add minced garlic, cayenne, and black pepper. Reduce heat and simmer 30 minutes.
7) Add shrimp and simmer 5 more minutes.
8) Just before serving, stir in the green onions and serve over rice.

Tossed Green Salad
Mixed salad greens
2 small tomatoes cut into wedges
1/2 purple onion
Several leaves of purple cabbage
Tear the lettuce and cabbage leaves to bite-size pieces. Thinly slice the onion and toss in the pieces. Add the tomato wedges and toss lightly. Serve with an oil and vinegar dressing. Thick slices of French bread top off the meal.

Crème Caramel
(Caramel Cup Custard)
4 eggs
1/2 cup sugar
1/8 teaspoon salt (optional)
1/2 teaspoon vanilla extract
2 cups whole milk
1) Preheat oven to 350 degrees.
2) Heat sugar in a heavy saucepan over medium heat, while stirring constantly, until it turns to liquid and begins to caramelize. Pour immediately into 6 custard cups, tilting the cups to make sure the sugar coats the bottom of each cup.
3) Set cups aside to cool, but NOT in the refrigerator or the caramel will become soft.
4) Once the caramel is hard, butter the sides of the custard cups above the caramel.
5) Beat eggs, sugar, salt and vanilla together.
6) Scald milk and add slowly to the egg mixture, stirring constantly.
7) Fill a large baking pan with 1" hot water. Place the custard cups in the water and bake 45-50 minutes, or until a knife inserted into the custard comes out clean.
8) Cool to room temperature in the baking pan, then chill in the refrigerator.
9) When ready to serve, turn each cup
quickly
onto an individual serving plate. The sugar will have turned into a syrupy glaze. Garnish with a sprig of mint.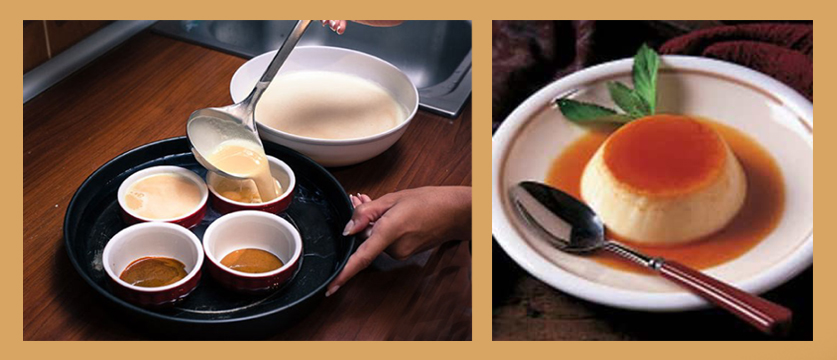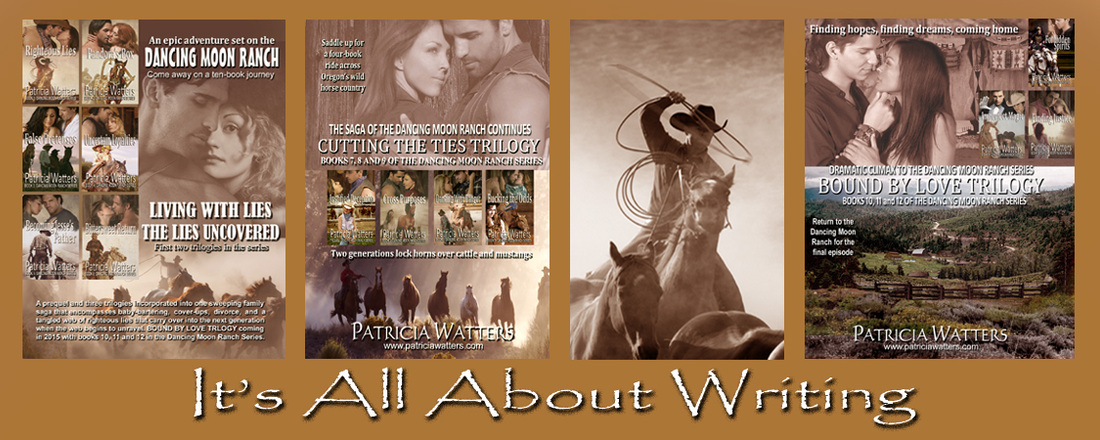 I have to admit, I'm a little obsessive-compulsive when it comes to writing. What you see on the banner above is what started out to be a single-title book called
Righteous Lies
, and what it turned out to be is a 13-book series that spans thirty years and two generations. I even put together the
Dancing Moon Ranch Family Album
, which includes everyone in the series, as well as the heroes and two heroines when they were growing up. If you want to take a peek at the Family Album, click
here
.
The ranch is set in the foothills of Oregon's beautiful coast range, in an area not far from where I live. I wish the ranch really existed because it's the place, and the life, I once dreamed of living, which is also the beauty of being a fiction writer. I can spend my days there, vicariously. And because Ed does all the grocery shopping and cooking, I can write from sun-up till midnight if I want.
After I complete
Finding Justice
, which is the final book in my Dancing Moon Ranch series, I'll start my new series, CAJUN COWBOYS, which will feature the Broussard Brothers (and maybe a sister or two), who run a large cattle ranch in Southwest Louisiana, not far from Bayou Teche where all of my Cajun ancestors settled. The series will span 10-15 years, giving the youngest brother time to grow up and find his lady love. I'll be picking names from my own Broussard family tree, while also passing on tidbits of history and information as I research the ins and outs of running cattle in the prairies and marshland of Louisiana. I hope you'll join me in this journey with the Broussard family.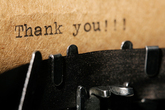 Thanks for reading my first edition of Story Threads. I'll be posting updates on my latest writing project monthly, along with some Cajun recipes. Below you'll see me, along with my little hand-built log house, which sits on 30 wooded acres on a ridge between the Willamette Valley and the Coast Range. If you'd like to drop me a note that would be great! Just click on the SEND ME A NOTE tab above and use the contact form. I answer all notes unless the email address on the contact form is inaccurate, in which case my email to you will come back to me and I won't be able to respond, so double check to make sure your email address is correct. Thanks so much. Patricia

---