CAJUN COWBOYS COMING IN 2018-2019

The idea for CAJUN COWBOYS, the contemporary western romance series I'm writing, came while I was tracing my roots and learned I'm actually a Cajun. My lineage descends from Joseph Beausoleil Broussard, my French-Acadian ancestral grandfather who, in 1765, led over 200 Acadian exiles, who refused to pledge allegiance to the British crown, from Nova Scotia to Louisiana. Known as Capitaine Commandant des Acadiens, Joseph Beausoleil Broussard and six members of the party secured a deal with a cattleman, Jean-Antoine-Bernard Dautrieve, to settle land grants on upper Bayou Teche and tend his livestock for part of the profit. The Dautrieve Agreement was signed into law, and by the early 1800s, the Acadians were major cattle ranchers. Among them was my great-great grandfather, Amand Broussard, who with his brother Pierre, drove herds of 100 or more cattle from Bayou Teche to New Orleans, a 150-mile trip that required drovers to make numerous swims and fight swamps, bogs and thick woods, a tough journey that took two weeks.

CAJUN COWBOYS will feature the Broussard brothers, six rugged cowboys who descend from tough Cajun stock, who run a large cattle ranch not far from Bayou Teche where my Cajun ancestors settled. I'm picking names from my family genealogy and announcing it here so the many Broussards living in the area, some running large cattle operations, will know these stories aren't based on them, but are pure fiction. Meanwhile, I'm researching the ins and outs of running cattle in the prairies and marshland of Southwest Louisiana. One thread running through the series will be the multi-generation feud between the British and the Acadians, something that's remains an issue in the area. The video trailer above introduces my feuding families who've lived on neighboring ranches for several generations. Below, I've posted the PROPOSED story ideas, subject to change as the stories unfold.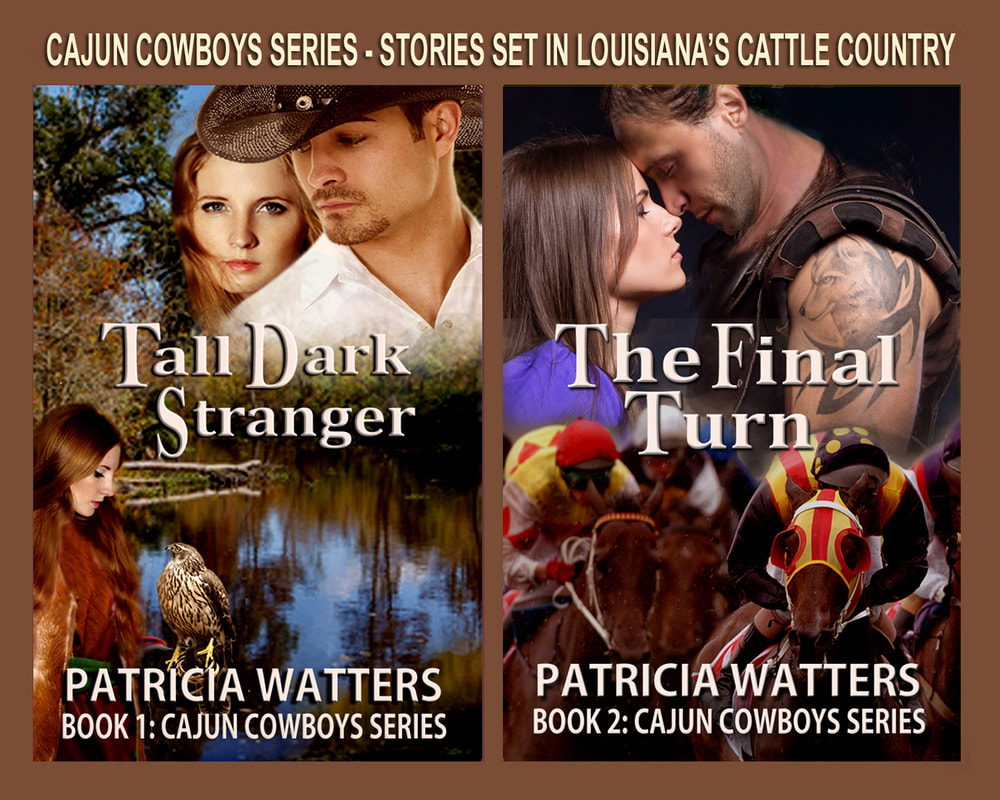 TALL DARK STRANGER: Six months after his fiancée is declared missing and presumed drowned, Joe Broussard is stunned to find her 150 miles from home. But his elation on learning she's alive is quickly shattered when he discovers she has no memory of him. Anne Harrison can't discount the fact that the man claiming to be her fiancée is telling the truth because she gave birth to a son, two months before, and she has no idea who the father is, which has haunted her from the time she found herself in a strange city, with no memory of who she was or how she got there. When she returns home to once-familiar surroundings, however, and fragments of memory begin to surface, unexpected passion blooms… until Anne's parents intervene with a court order to become the baby's legal guardians. Can Joe pull Anne from the grip of her rich and powerful parents, who are vehemently opposed to their daughter marrying a Cajun, or will the Harrison's destroy their relationship and fuel a multi-generational feud?

LADY'S LUCK: Down-on-her-luck female jockey, Piper Harrison, does the unthinkable as far as her family's concerned—she enlists the grand-patriarch of the Broussard family to work with her and bring her up to speed, and in return, she'll exercise his racing quarter horses. There's one glitch in her plan though, the man's grandson, Ace. He's against interacting with any of the Harrisons, and he lets his feelings be known. Still, he finds himself watching Piper during her morning workouts, and while a multi-generational feud between their families raises more than hackles between the pair, unwanted passions draw them together, and before long, Ace sees more in the woman than just a workout rider for his grandfather's horses. In fact, she might just be the jockey to take Lady's Luck, his own 2-year-old filly, to Evangeline Downs for her maiden run, a move that would pit Lady's Luck against Piper's father's top horse. That is, it Piper's willing to chance her father's wrath when he learns exactly who's riding a Broussard horse to potential victory.

FLIGHT OF FANCY: The last thing Pike Broussard wants in his life is the woman who dumped him to marry a man who conned him out of a sizeable sum of money, but Kate's in dire straits and he's the only one who can help. And although he'd rather hop into a pit of vipers than get involved with Kate again, and something about the young boy she claims to be her adopted son doesn't ring true, he finds himself drawn to this desperate brown-eyed beauty. Unfortunately, Kate soon discovers she's not as over Pike as she thought. She also knows he'll never forgive her if he learns the truth she's been hiding. But whether or not either want a relationship, they've got one. The question is, will they get their second chance at love before a hired gun eliminates the one problem Kate's ex doesn't need?

BLIND CHANCE: Traveling to the old homestead in northwest Louisiana to settle his cousin's estate, Hank Broussard discovers his deceased relative left behind a pregnant wife. She's also very troubled. Haunted by dark memories after the bitter betrayal of her late husband, Susanne Thibodeaux is afraid to love again... until she meets her dead husband's cousin, a hot Cajun cowboy with a healing touch, and she's offered another shot at happiness, that is, until buried secrets get in the way.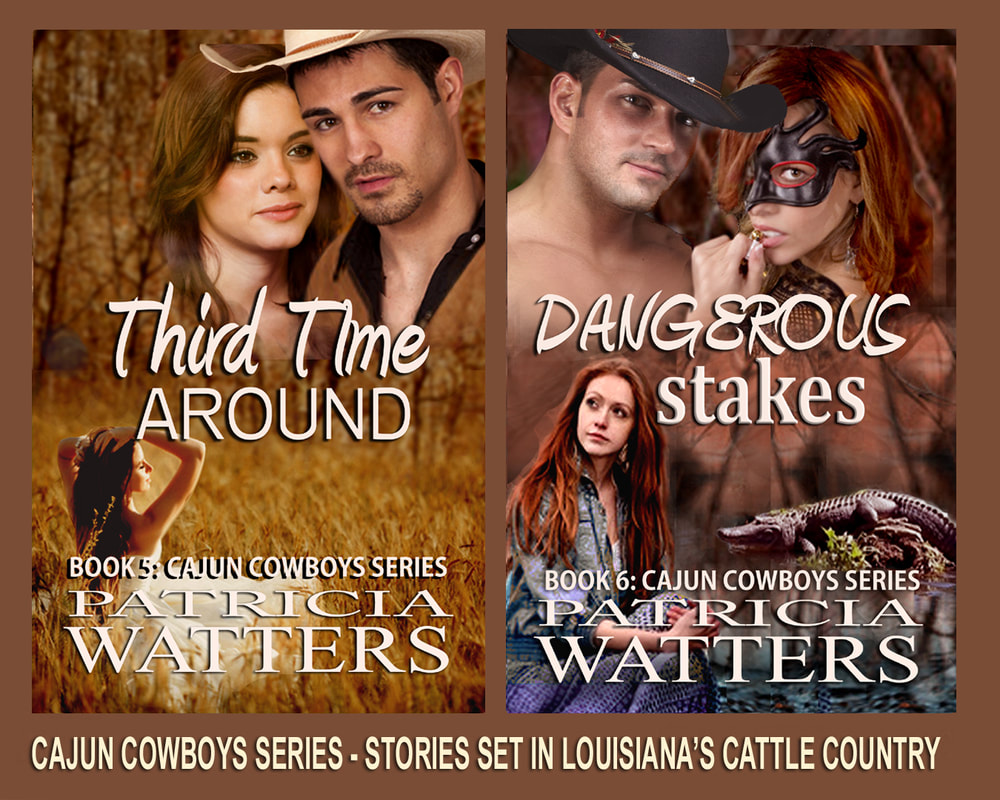 TROUBLE AHEAD: Alex Broussard has a good handle on life. Between his cattle operation with his brothers and the training of his Catahoula Curs, he figures he has everything a cowboy needs… until Georgia Harrison, who's fresh out of film school, approaches him with a business proposition: allow her to make a documentary of him working with his dogs and they'll split the profits. He has the expertise training and handling cadaver dogs, and she has the money and connections to make the documentary a success. Despite reservations, Alex agrees. Whereas he considers Georgia a spoiled rich girl, his dogs are his passion, and Harrison money's as good as any, especially their money. The Harrisons have been thorns in the Broussards' sides for generations, and time has done nothing to dissipate the feud. But when they find themselves on the trail of a murder victim, with suspects who'll stop at nothing to prevent discovery of the body, Alex learns that the woman he believed to be spoiled and rich is anything but, which has him looking at her in a whole different light.

DANGEROUS STAKES: Returning to her hometown as a minor celebrity brings Janet Harrison unexpectedly in contact with Gator Broussard. Janet's had her eyes on Gator from as far back as she can remember, but Gator's always had tunnel vision for her sister, who dumped him for another man. Gator's been bad-tempered ever since, but the rush of adrenaline he gets when wrestling alligators helps lift his spirits. But now Gator's ex-girlfriend's sister is head honcho in a TV documentary featuring Cajun cowboys, and winner of the alligator-wrestling competition gets to be spokesman, which would give him a chance to throw a spotlight on the infamous feud between the Cajun Broussards and the British Harrisons from a Cajun point of view. What Gator doesn't count on is falling in love with Janet Harrison about the time he's ready to fire all the ammunition in his anti-British arsenal at her TV documentary. Sparks fly between the pair, but can love transcend, and maybe even resolve, the long-running feud between their families?